Why Handmade Minky Blankets are the Perfect Baby Shower Gift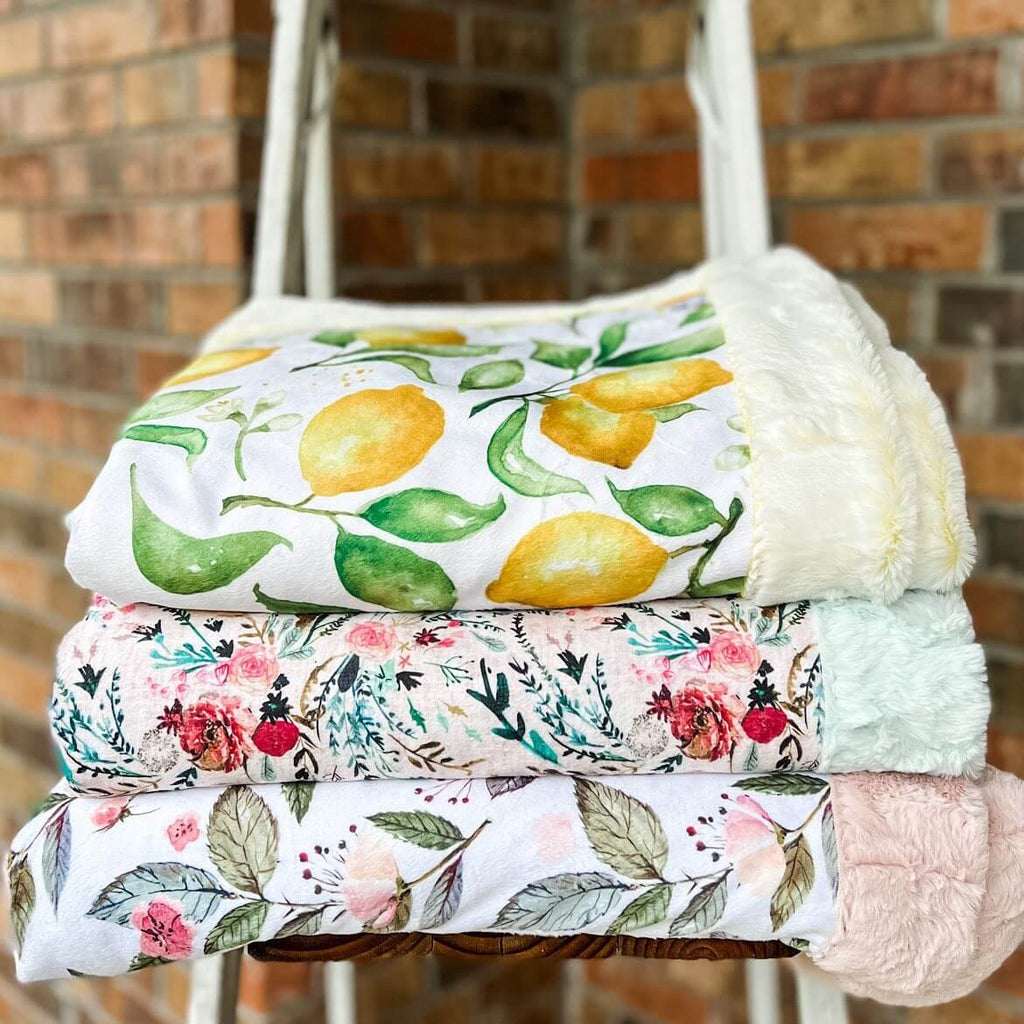 Baby showers are a sweet way to celebrate a new life that is about to enter this world. When buying a baby shower gift you want it to be memorable, and something you know that both mom and baby are going to enjoy. 
Here are some of the best reasons you should consider a handmade Minky blanket from Kalin Marie for a special baby shower gift.
Our Handmade Minky Blankets are Unique
There is nothing wrong with a store-bought gift, but if you are trying to find something unique, our blankets stand out. They are made with top-quality Minky fabric that results in plush and luxurious finished blankets.
Our Minky blankets can be personalized front and back with solid or patterned Minky material to fit any baby room theme. Almost any design can be customized to what you are looking for.
We also have a large selection of ready-to-ship blankets that have already been sewn by our wonderful seamstresses and are ready to be sent to you upon order.
Related Post: Gifts for Spring Babies: Fawn Print Booties, Blankets, and Loveys
Minky Blankets Make Great Keepsakes
Moms love to keep those special, newborn items that were specially made for their little ones. Minky blankets are incredibly soft, great for cuddling, and can make some wonderful photos and memories.
It is helpful before the shower to find out if the nursery will have a color or theme so you can try to coordinate your handmade Minky blanket with the rest of the room. 
Minky Blankets Can Be Personalized
Not only can you design the colors and patterns on a Minky blanket, but you can also have them embroidered as well. Adding initials or a name can make it even more special and more likely to be saved as a keepsake.
It will be a fun gift for the child as they get older and begin to recognize their own name on things because then they will know that it was made especially for them.
Minky Blankets are Easy to Wash
Easy to wash is important when dealing with new babies because spit-up and leaks are to be expected. Luckily, Minky blankets are easy to care for and can be washed on delicate with gentle detergent, and air-dried or tumbled dried with no heat.
Related Post: How to Wash a Minky Blanket
Handmade Minky Blankets From Kalin Marie
To view our luxurious, handmade Minky blankets, visit
Kalin Marie
. We also sew custom Minky blankets, loveys, stuffies, bedding, and more! To order, visit our
online shop
today or send us an
email.