How to Wash a Minky Blanket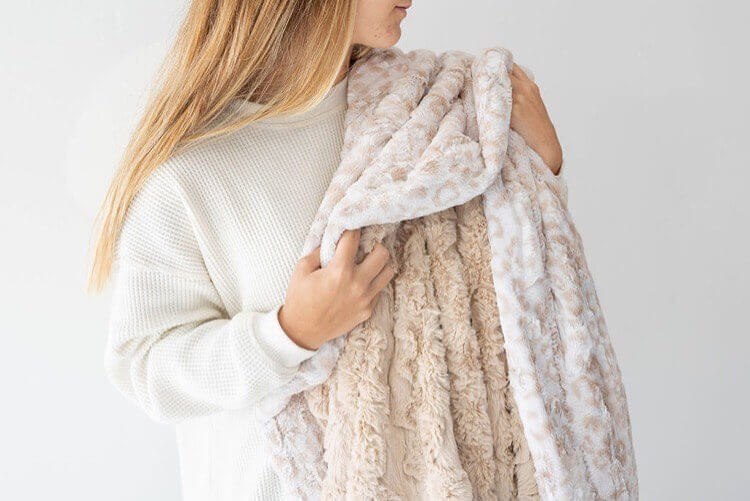 Handmade Minky blankets from Kalin Marie are soft, luxurious, and incredibly snuggly. But eventually, they are going to get dirty. If you want to maintain their soft, Minky texture you need to know how to wash Minky blankets.
These Minky washing instructions are simple but important for maintaining the integrity of your blankets, as well as your baby and toddler booties, loveys, and all of your Minky products.
How to wash Minky blankets:
Wash in cold water.
Wash separately from other clothes.
Use gentle, dye-free, and fragrance-free detergent.
Don't use fabric softener or dryer sheets.
Air dry or tumble only with no heat.
Wash Minky Blankets in Cold Water
When washing a Minky blanket, or any Minky item, you CAN do it in a washing machine, as long as you wash it in cold water only. You want to avoid any heat on the Minky material because it can damage or melt the fibers together, causing your blanket to lose some of its plushness.
Related Post: They are Plush and Beautiful, But What Goes Into Making a Custom Blanket by Kalin Marie
Wash Minky Blankets Alone
For best results, wash Minky blankets or other Minky products alone, on a gentle setting in the washing machine. You don't want your blanket to collect fibers from other clothing items or to get tangled with other items. The best idea is to just wash your Minky as gently as possible.
Wash Minky Blankets in Gentle Detergent
Detergents are generally safe to use on Minky items as long as they have no harsh chemicals, are mostly natural, and are free of dyes or perfumes. Free and clear detergents work well for this. You can also add a little plain vinegar to the detergent or fabric softener slot for a cleaning and softness boost.
Related Post: Kalin Marie: A Women-Owned Business Sewing Up Luxury
Don't Use Fabric Softener on Minky Blankets
Fabric softeners and dryer sheets are NOT safe for Minky material and can damage it. If you use dryer sheets in your dryer, make sure you do not dry any Minky items in it as the wax from the dryer sheets will matte the material.
A fabric softener is not needed, as a gentle detergent will help Minky retain its softness without any additives.
Air Dry Minky Blankets
If possible, air-dry your Minky blankets to avoid applying any heat. It is acceptable to tumble dry Minky with no heat if needed. This can help them to stay plush and fluffy.
Minky Blankets From Kalin Marie
To view our soft, luxurious Minky blankets, visit
Kalin Marie
. We also sew custom Minky blankets, loveys, stuffies, bedding, and more! To order, visit our
online shop
today or send us an
email.