Gifts for Spring Babies: Fawn Print Booties, Blankets, and Loveys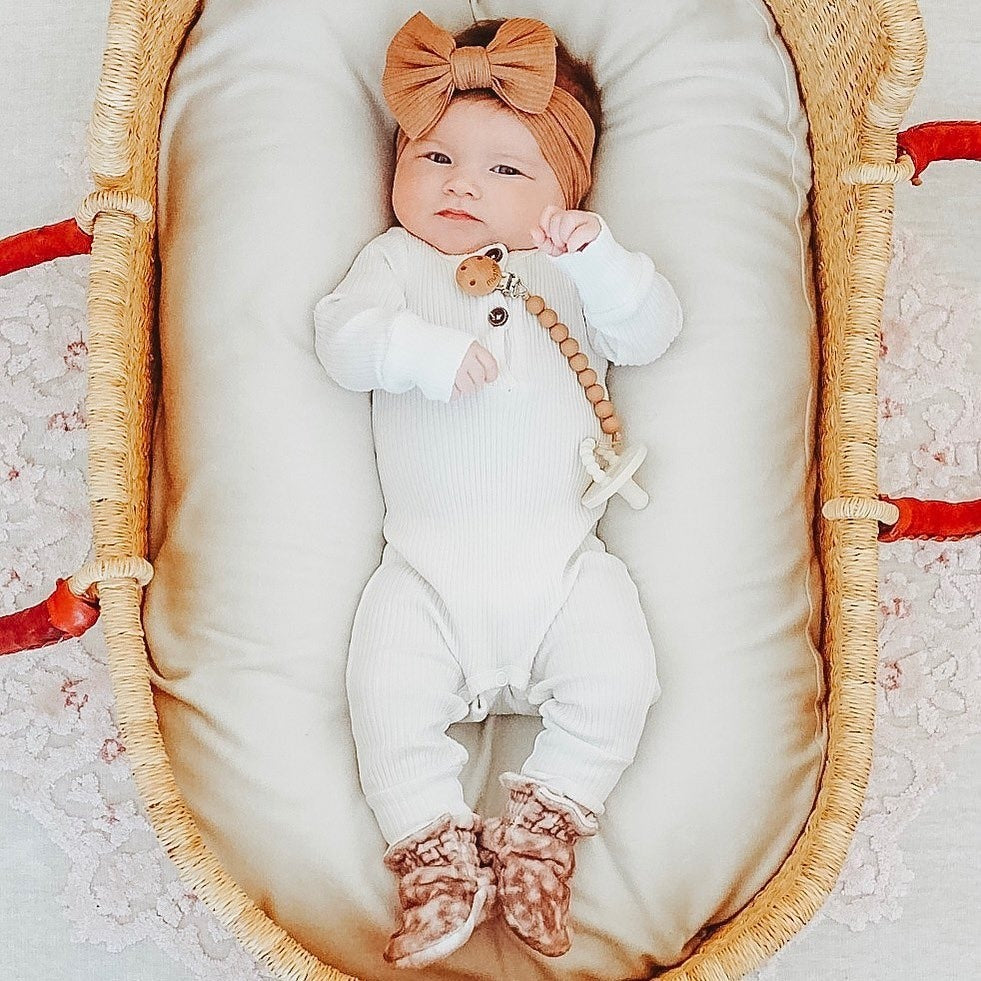 It's time to buy gifts for all those precious little spring babies about to be born, and everyone loves to celebrate spring with bright colors and floral prints. But there is another trend that has been making the rounds for newborns: deer print.
If you are looking for a handcrafted, luxurious gift, Kalin Marie makes deer print booties, Minky blankets, and Minky loveys that you can customize.
Deer Print Booties
Minky baby booties are a favorite baby shower gift because they are so incredibly soft, and it is important to keep little newborn toes warm. Our double elastic Minky booties come in a gorgeous deer print to keep your little dear warm.
Our deer print booties are handmade by local seamstresses (with love, of course) and are ready to ship upon order. Size newborn to 6-month booties come with a soft Minky sole, and sized 6 months and up come with a beige, non-slip Toughtek sole.
Deer Print Blankets
Our snuggly Minky blankets are great for keeping those new babies warm, and we have several ready-to-ship options available featuring the fawn print, like this Oh Deer Luxe Snuggle Blanket.
If you are looking for something a little more custom, check out our Custom Luxe Snuggle Blankets with options of "Fawn Fur" Minky or "Beige Fawn."
Related Post: Kalin Marie: A Women-Owned Business Sewing Up Luxury
Deer Print Loveys
Loveys are small, baby-size squares of fabric with a loop that can attach to a pacifier. They make dropped pacifiers easier to find and provide something comforting for babies to hold onto. Who wouldn't love to hold onto that Minky softness?
There are several ready-to-ship loveys available featuring the fawn prints, like this buffalo check and fawn print lovey. Or like all of our handmade items you can create a custom lovey order featuring the Minky fabrics you prefer.
Have a Design in Mind?
If there is something you want created but aren't sure we can do it, don't hesitate to contact us. We can help you find a Minky pattern, or pick out the perfect combinations for your custom blanket or lovey.
Find Deer Print Booties at Kalin Marie
Kalin Marie
offers luxury, made-to-order blankets, booties, pillow covers, and more! To see our fawn print booties and other handmade baby items visit our
online shop
today, or send us an
email.