Minky Fabric FAQs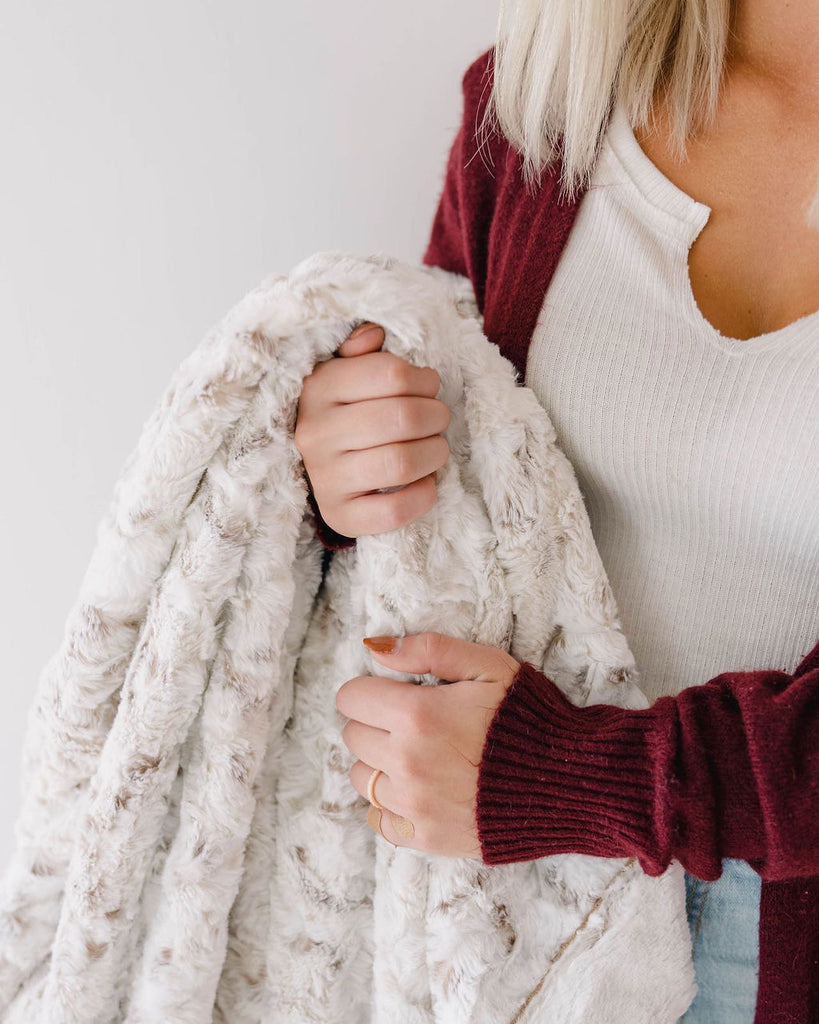 It's soft, it's luxurious, and it is used to make everyone's favorite blankets. Today, we are talking about Minky! But what is Minky fabric exactly?
Kalin Marie explains the basics of the Minky material that makes every snuggle blanket, bootie, and lovie we carry.
What is Minky?
Minky is a type of fabric that is made from 100% polyester fibers. It is plush and luxuriously soft, almost resembling animal fur, though it is completely synthetic. Minky fabric is typically only plush on one side and can be made in different thicknesses.
Is Minky Easy to Wash?
Minky fabric is fairly easy to clean, though you need to be gentle with it. It can be machine washed on a gentle cycle with very gentle detergent, but you cannot use heat to dry it, or it may become matted. It is best to air dry or tumble dry on low with no heat.
Related Post: How to Wash a Minky Blanket
Is Minky Expensive?
Minky tends to be more expensive than most fabrics, especially if it is high quality. At Kalin Marie, we use only the softest, highest quality Minky fabrics in our products.
Are There Different Types of Minky?
While all Minky is made of the same material, it can be manufactured to give it different properties. Some Minky is smooth, but it can be made to have a texture or pattern. Minky also comes in different weights and thicknesses which affect the plushness of the blanket that is made.
What Can You Make Out of Minky?
Minky can be used to make just about anything. Here at Kalin Marie, we use quality Minky material to make all sizes of blankets, pillow covers, baby and kids booties, lovies, kids stuffed animals, and more!
Is Minky Hypoallergenic?
Because Minky fabric is synthetic and is made from 100% polyester, it is hypoallergenic. This is one of the reasons it has become popular for baby booties, blankets, and stuffed animals.
Related Post: Why Handmade Minky Blankets are the Perfect Baby Shower Gift
Handmade Minky Blankets From Kalin Marie
To view our adorable, handmade Minky items, visit
Kalin Marie
. We sew custom Minky blankets, loveys, stuffies, bedding, and more! To order, visit our
online shop
today or send us an
email.