Minky Baby Booties: What Makes Ours Unique?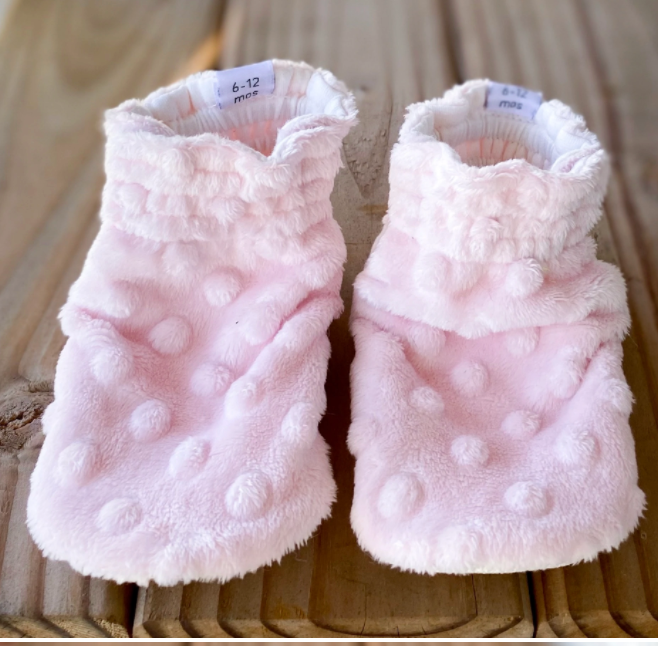 Tiny baby feet are something to be treasured, so it is no wonder that people obsess over finding the softest, most luxurious covers for them. We want our baby's toes to be warm and snuggly, and that's why Minky baby booties are an excellent choice.
So why choose Minky baby booties from Kalin Marie? Let us tell you what makes our booties so unique.
Our Minky Baby Booties Are Handmade
Every baby bootie from Kalin Marie is handmade in the USA by local seamstresses. Our booties are not factory-made or mass-produced, but instead carefully crafted by hand with love.
After every custom order is placed, the chosen fabric is cut and the booties are then sewn to your specifications.
Related Post: 5 Ways to Show Someone You Love Them with a Customized Gift
Our Minky Booties Offer Luxury
At Kalin Marie, we only use high-quality, luxury Minky fabrics. All of our materials are carefully chosen for their colors and patterns. 
Our Minky baby booties are incredibly soft and comfortable and are the perfect thickness for keeping baby feet warm. When you order from Kalin Marie, you know your booties will be beautiful and high-quality.
Our Minky Baby Booties Stay Put
A common problem with many baby booties is that they slide off easily because of the material. As soon as a baby becomes mobile enough, it won't take much to kick them right off.
Kalin Marie has created a double elastic layer at the top of the booties that prevents this from happening. The tops are just secure enough that the baby can kick and play and not have them fall off.
Related Post: Kalin Marie: A Women-Owned Business Sewing Up Luxury
Our Toddler Minky Booties Are Safe for Walking
Our newborn to 6-month booties have a soft, Minky sole for extra comfort on those teeny feet. But obviously, this isn't ideal for older babies who are soon to start standing and walking. That's why all of our Minky baby booties from size 6-12 months and up are made with a non-slip Toughtek sole.
Soft-soled, lightweight shoes are recommended by the American Podiatric Medical Association for babies learning to walk. The closer to barefoot the better, as children this age are still developing and learning to use their foot muscles.
Minky Baby Booties From Kalin Marie
If you are looking for soft, luxurious booties that you can customize, visit
Kalin Marie
. We also sew custom Minky blankets, loveys, stuffies, bedding, and more! To order, visit our
online shop
today or send us an
email.