Knit Cotton Booties: Lightweight and Perfect for Summer!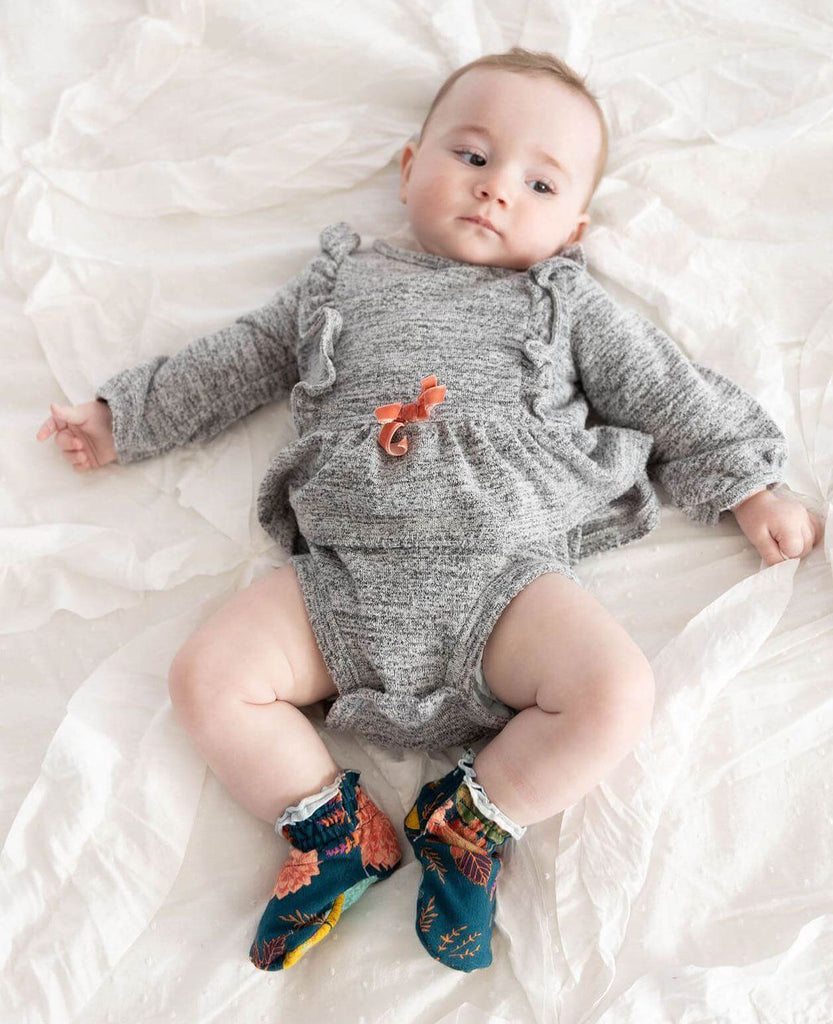 While it may be hot outside during the summer months, it is still important to keep those tiny baby feet warm while you are indoors, especially if you keep cold air running constantly.
Kalin Marie is known for their luxurious Minky baby booties, but did you also know we make lightweight knit booties as well? Read on to learn about our beautiful all-knit booties.
Our Knit Booties are Always Handmade
Like all the other beautiful gifts from Kalin Marie, our all-knit booties are handmade right here in the U.S. by local seamstresses. These seamstresses are mothers, grandmothers, and ladies who know the importance of gifts for little ones and put all their love and care into making them.
Related Post: Why Handmade Minky Blankets are the Perfect Baby Shower Gift
Our Knit Booties Have Customizable Summer Height
Traditionally our booties come with a double elastic band to help them stay secure, and this option is still available on our Minky booties as well as our knit styles. But with the knit booties, you have the option of shortening them to one row of elastic to help your baby stay cool. This is a nice option to help your little one stay warm without overheating.
Our Booties Can Be Made to Order
Much like our Minky booties, our all-knit booties are fully customizable and can be made in just about any pattern and size. We also have many custom options, including finished or unfinished edges, adding ribbons or buttons, and of course the shortened height for those summer months.
If you have a style or pattern in mind, let us know! Our talented seamstresses can do just about anything!
Booties Can Be Coordinated to Blankets
If you are looking for a baby shower gift or just love to coordinate outfits and accessories, we can make Minky baby blankets, lovies, or stuffies in the same fabric as your booties. If you don't see what you are looking for online, feel free to send us an email!
Related Post: Toddler Booties Made for Babies on the Go
Handmade Knit Booties From Kalin Marie
To view our adorable, handmade all-knit booties, visit
Kalin Marie
. We also sew custom Minky blankets, loveys, stuffies, bedding, and more! To order, visit our
online shop
today or send us an
email.