Toddler Booties Made for Babies on the Go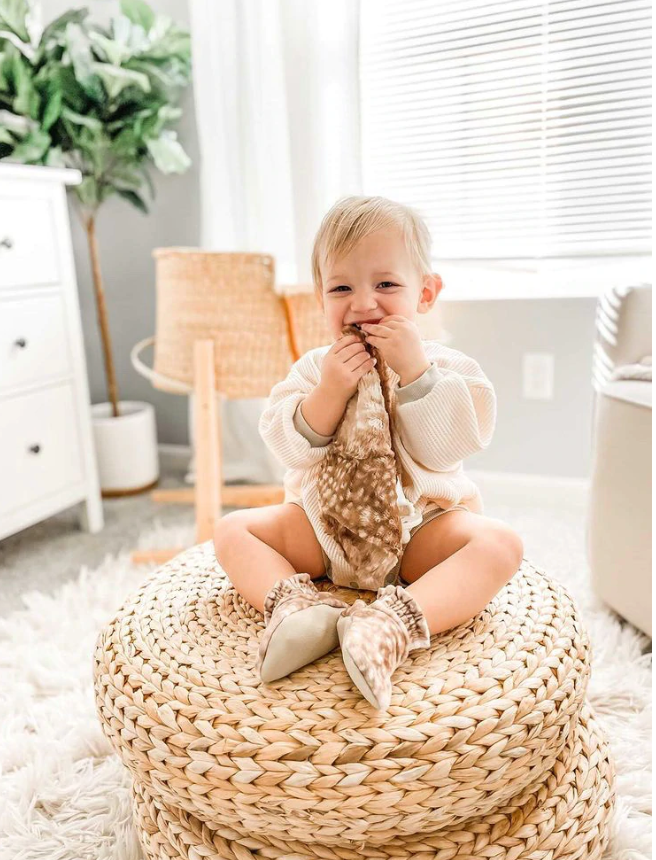 Minky booties are becoming incredibly popular for warming those tiny baby feet. But eventually, those babies are going to become mobile. Parents might worry about how Minky booties will hold up on babies who are learning to stand and take their first steps.
The good news is that Kalin Marie has you covered, and makes handmade Minky toddler booties, especially for those babies on the go.
Our Toddler Booties Have Double Elastic Bands
One of the most frustrating problems with booties is how easily they slip off (or get pulled off by those crafty little ones exercising their motor skills). The whole purpose of Minky booties is to keep the feet warm, and they can't do that if they are constantly sliding off.
To fix this problem, the toddler booties at Kalin Marie are made with a double elastic band that holds the booties on securely without being too tight. This allows flexibility and movement while keeping the bootie in place.
Our Toddler Booties Have Non-Slip Soles
While all of our 0-6 month Minky booties have soft Minky soles for comfort, this obviously isn't ideal once a baby begins moving around on their own. Minky material can be slick, and a Minky sole would cause slipping and sliding.
At Kalin Marie, all of our toddler booties size 6 months and up have a ToughTek non-slip sole, which is good for gripping, standing, running, and playing.
Related Post: Why Luxury Custom Pillow Covers From Kalin Marie Are the Perfect Wedding Gift
Our Toddler Booties Are Ideal Soft-Soled Support
Children learning to walk are flat-footed and still developing their foot muscles, so many experts recommend avoiding hard-soled, inflexible shoes during this time. Babies who walk barefoot or in a soft-soled shoe while learning have an easier time building up those foot muscles and learning to balance themselves.
Our Minky toddler booties are ideal for the learning to walk phase because not only are they non-slip, but the soft Toughtek sole also allows for flexibility and movement while still covering the feet.
Our Toddler Booties Are Handmade With Love
If you are looking for something special for your little one, then you can't go wrong with custom Minky toddler booties from Kalin Marie. They are luxuriously soft, customizable, and are handmade by local seamstresses who are students, mothers, and grandmothers themselves.
Find Toddler Booties at Kalin Marie
Kalin Marie
offers luxury, made-to-order blankets, booties, pillow covers, and more! To see our toddler booties and other handmade baby items visit our
online shop
today, or send us an
email.