Why Babies Need a Custom Snuggle Buddy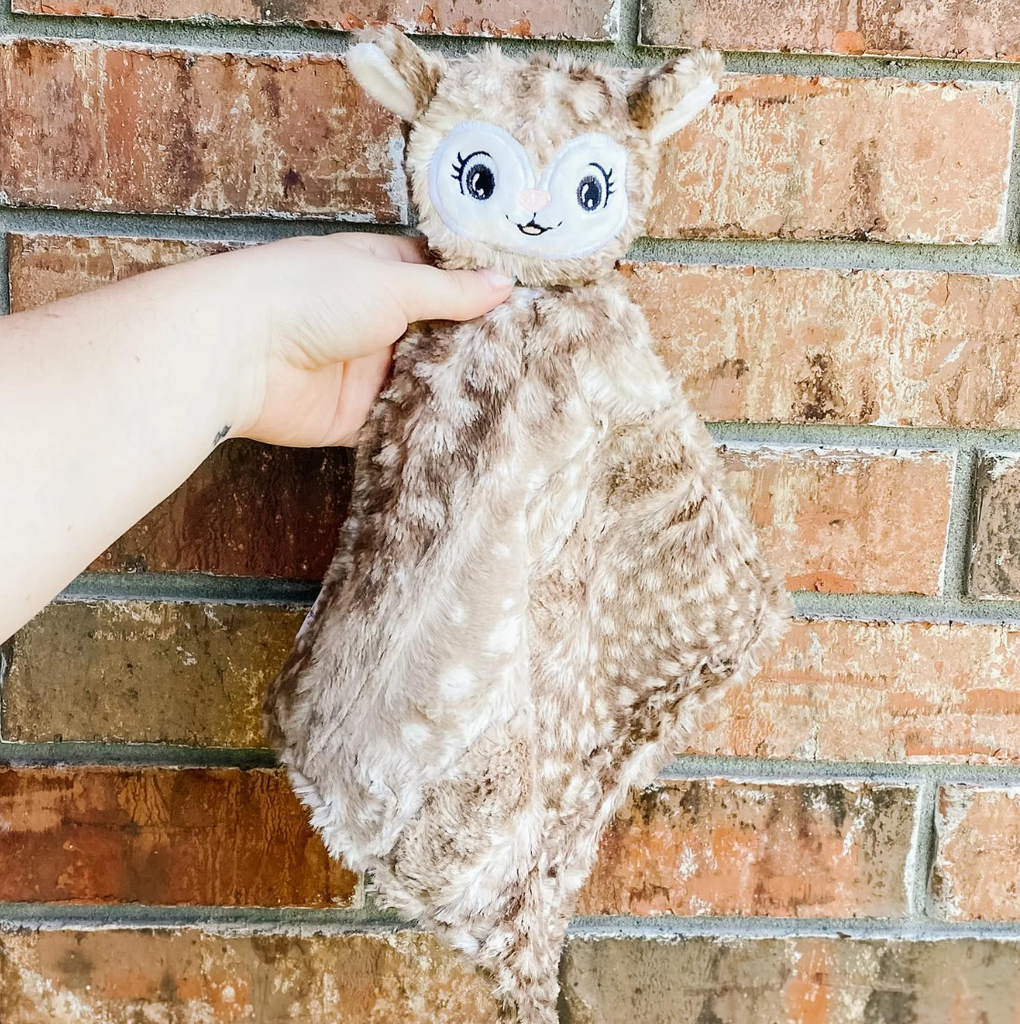 Snuggle buddies are often a little one's first friends. They are soft, loveable, and provide comfort during naptime. That's why choosing a snuggle buddy for your baby is a special moment, and at Kalin Marie, we understand that. So why should you order your custom snuggle buddy from Kalin Marie?
They Come In A Variety of Animals
We are constantly adding new fabrics and options to our available selections, but currently, for our snuggle buddies, you can choose from a:
There are several different colors of Minky fabric to select for each animal option, and all snuggle buddies can be embroidered with a name or message. With such a large selection, it's easy to find your little one's favorite animal or color or even match it to a themed nursery.
Minky Fabric Is Soft and Easy To Wash
One of the main reasons Minky is used for baby blankets and stuffed animals is because it is incredibly soft and snuggly. Minky is also fairly easy to wash and keep clean.
To wash your Minky snuggle buddy:
Wash it in cold water on a delicate cycle. 
Use only mild, dye-free detergent.

Do not use fabric softener on Minky, it will cause the Minky to matte, and it will lose its plushness.

Air dry your Minky snuggle buddy or tumble dry with no heat.

Do not use any heat or fabric softener sheets on your Minky. They may cause it to matte.
The less you wash Minky items, the better they will hold up. But when you do wash it, just remember to treat it as gently as possible. 
Related Post: How to Wash a Minky Blanket
Handmade In The USA
While there is nothing wrong with store-bought items, sometimes it is nice to have a custom gift that you know was made especially for you. At Kalin Marie, all of our items, including our snuggle buddies, are handmade in the USA by local seamstresses. You choose your item, the fabric, and the embroidery message, and we custom-make your order.
By buying from Kalin Marie, you are supporting a woman-owned small business and creating an extra special gift for your little one as well.
Custom Minky Snuggle Buddies from Kalin Marie
Ay
Kalin Marie
, we sew custom snuggle buddies, Minky baby blankets, and Minky baby booties and lovies. We also custom-make a variety of other luxury items for your home, including blankets and pillow covers. To order, visit our
online shop
today or send us an
email.