Minky Washing FAQs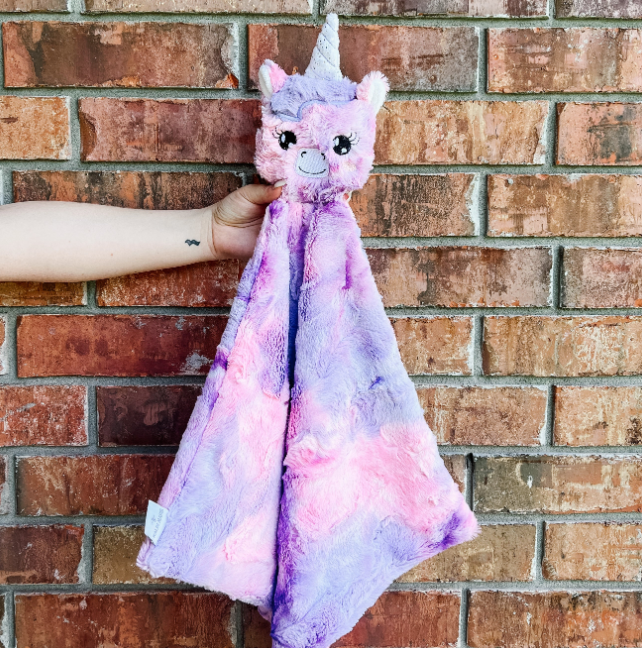 Minky fabric is plush and luxurious, making the perfect material for soft blankets, little baby booties, tiny lovies, and even stuffed animals. At Kalin Marie, we make all these custom Minky items and more!
If it is your first time owning a Minky handmade item, you might feel a bit intimidated about the washing process, but don't worry! Minky is fairly easy to care for and maintain as long as you follow the manufacturer's instructions.
What is Minky?
Minky is a soft, synthetic material made out of polyester. It is warm and plush, making it a favorite for items like baby blankets and baby booties. It can also be made into Minky stuffed animals (or stuffies), baby lovies that attach to pacifiers, and high-end adult blankets and throws. Kalin Marie even makes a wearable Minky throw (with pockets!)
Can you wash Minky material?
You can absolutely wash Minky items, which is a relief to those who love Minky baby products. If your little one enjoys snacking with their Minky stuffed animal or happens to spit up on that Minky baby blanket, it can be cleaned right at home.
Related Post: How to Wash a Minky Blanket
What is the best way to wash Minky?
Washing Minky products is easy and can be done in the washing machine.
Step 1: Wash Minky items alone on a delicate cold cycle.
Step 2: Use only mild, dye-free detergent (with no fabric softener)
Step 3: Air-dry Minky or tumble-dry with no heat
Always wash Minky in cold water on a delicate cycle. Do not use any kind of fabric softener because it will cause the Minky to stick together and get matted. You can use a little mild detergent, preferably dye-free, so the color does not transfer. After you wash your Minky, air dry it or dry it with no heat. If you do tumble dry with no heat, do not use fabric softener sheets as these can cause the Minky to matt as well.
Just treat your Minky gently, with as few products as possible, and it should help your items stay soft and last longer.
Can you use detergent on Minky?
You can use mild detergent when washing Minky, preferably natural and dye-free. If your Minky is especially dirty, you can soak it in cold water with a little detergent before washing it on delicate.
Can I dry Minky in the dryer?
You should not use heat when drying Minky to avoid melting and matting. It is best to air dry your Minky items, but you can tumble dry in the dryer as long as you use a setting with no heat.
How often should you wash Minky material?
Ideally, you should only be washing Minky blankets, booties, and other items when they really need to be cleaned. The less often you wash Minky blankets, the longer they will last. But it is occasionally necessary, and using the washing instructions listed above will help keep your blankets, booties, and stuffed animals clean and plush.
What should I avoid when washing Minky items?
The two main things to avoid when washing Minky blankets and other items are heat and fabric softener. Wash only in cold water, and do not use heat to dry. Also, fabric softener will not make your Minky items fluffier but instead will cause them to lose plushness as areas become matted.
Luxury Minky Blankets, Booties, Lovies, and Stuffies
To view our luxury, handmade Minky items, visit
Kalin Marie
. We sew custom Minky blankets, Minky baby booties and lovies, and various other items for your home. To order, visit our
online shop
today or send us an
email.