Minky Scrap Box Ideas: Perfect for Crafters!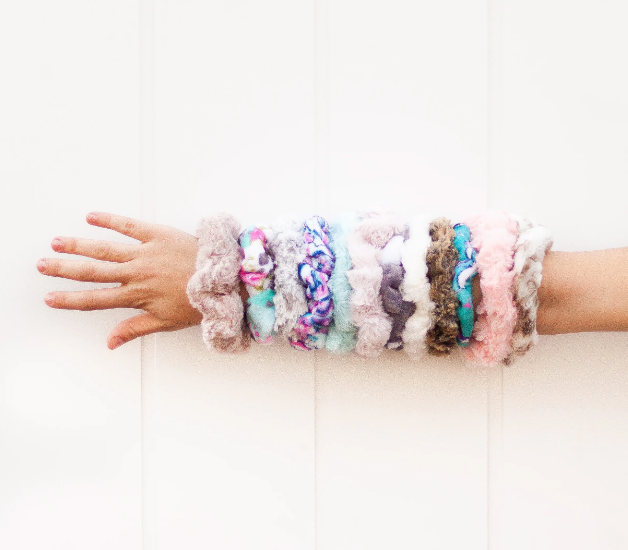 If you didn't already know, we have an amazing, large, flat-rate box of Minky scraps available for purchase. This is perfect for crafters who are looking for something a little different to spice up their projects.
The included Minky scraps may come in various sizes and can be up to 45-65 inches long, though none are more than 9 inches wide. We use expensive, luxurious Minky fabrics, so the scraps are soft and very high quality.
The Minky scrap box from Kalin Marie can be used for a variety of small crafts like:
Scrunchies
Headbands
Doll clothes
Scrap blankets
Headwarmers
Small stuffed animals
Sensory toys
Scrunchies
Scrunchies have a certain style, and if you have never made one, it should be easy to find a quick tutorial. All you will need are your desired Minky scraps, some elastic, and a sewing machine. 
Headbands
There are several different ways to make headbands, but all you need is fabric glue, your Minky scraps, and a plain headband (you can even redo old headbands that you don't wear). Starting at one end, wind the fabric around the band, layering it as you make your way to the other side. Secure the fabric with glue and let it dry. For cleaner ends, wrap a small piece of ribbon around each end and glue it into place.
Related Post: Minky Fabric FAQs
Doll Clothes
We all know how much young girls love to change their doll's clothes, and clothing for dolls can be expensive!
Create beautiful tops, skirts, dresses, blankets, and more for Barbie-sized dolls or larger ones. Patterns can likely be found online for your type of doll, or you can base the size on clothes the doll already has. Along with cutting and minimal sewing, you may also need a few velcro pieces for taking the clothes on and off.
Scrap Blankets
If you love sewing blankets, you can use your Minky scraps to create scrap blankets out of mismatched patterns. The Minky material is very soft and snuggly and makes excellent blankets for kids and adults.
Headwarmers
Minky fabric is incredibly soft and warm, making great winter accessories. An easy one you can do is an ear warmer, a headband of fabric made to cover your ears in cold weather. The Minky will be soft and plush against your ears, shielding them from the cold. Since they don't cover the top of the head, they are often a favorite for ladies who like to keep their hair in a ponytail or bun.
Small Stuffed Animals
Mismatched fabrics can make adorable stuffed animals and give them that "scrappy" and handmade look. Kids will love a stuffed animal made especially for them, especially one made of soft, luxurious Minky.
Sensory Squares
Sensory squares are great for babies or toddlers learning to touch and explore their senses. Though there is no one right way to make them, they are typically squares of different colors and textures of fabric, with looped or loose ribbon tags all around them. This is also a great way to use up any ribbon scraps.
Babies and toddlers will love to touch the smooth and textured Minky fabrics and play with the ribbon all around the outside. You might even sew a thin, plastic piece inside so the square "crinkles" when the baby plays with it.
Handmade Minky Gifts From Kalin Marie
To view our adorable, handmade Minky items, visit
Kalin Marie
. We sew custom Minky blankets, lovies, stuffies, bedding, and more! To order, visit our
online shop
today or send us an
email.