Custom Bedding: Why the Right Bedding Can Make All the Difference in Your Sleep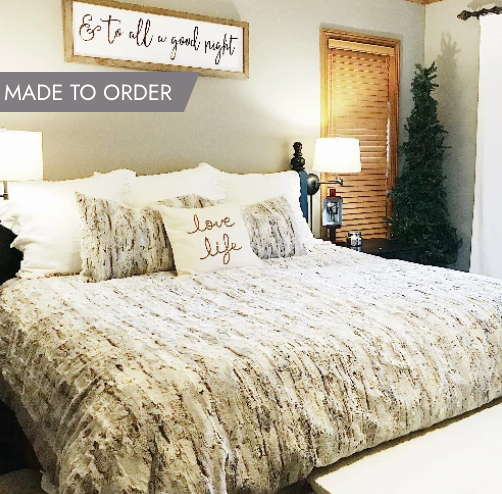 We've all been there. You crawl into bed, turn out the lights, close your eyes, and wait to fall asleep. But then sleep doesn't come and you end up tossing and turning for hours. According to healthline.com, one of the ways you can improve your sleep is to invest in a high-quality mattress and bedding. At Kalin Marie, we make bedding from soft and luxurious fabrics that not only offer warmth and comfort but are beautiful as well. Creating a bed well-suited for sleeping consists of finding the right mattress, sheets, pillows, and blankets. 
It Starts with a Good Mattress
When picking out a mattress you want to start by deciding what type of mattress is best for you. The most common types of mattresses are foam and innerspring mattresses. Foam mattresses don't have coils and are a good fit for side sleepers and couples because they offer pressure relief and motion isolation. Innerspring mattresses have a coil-based support system. They are typically less expensive than foam mattresses but tend to be bouncier. 
Then Comes the Sheets  
Sheets also play an important role in a good night's sleep. When it comes to quality, it's hard to beat linen sheets. Yes, they tend to be a bit more expensive than cotton or microfiber sheets, but they regulate body temperature thanks to their natural fibers. And temperature is a crucial part of getting a good sleep. Linen sheets keep you cool when it's hot and warm when it's cold.  Some people find them a bit scratchy at first, but they soften up considerably after a few washes. 
Related Post: They are Plush and Beautiful, But What Goes Into Making a Custom Blanket by Kalin Marie?
Then the Pillows
When sleeping you want to make sure your head is aligned with your neck and backbone, and the right pillow can help you do this. Now what constitutes the right pillow depends on what type of sleeper you are. If you sleep on your back, look for a pillow that supports the natural curve of the neck. If you're a side sleeper you'll want a pillow that will keep your neck straight. For those of you who are stomach sleepers, opt for a thin pillow. Once you've found the right pillow for sleeping, make sure to find a high-quality pillowcase. We make all of our pillowcases out of super-soft and luxurious fabrics, and they are customizable. 
And Don't Forget the Blankets
Rounding out your perfect bedding experience includes the perfect blanket. At Kalin Marie, all of our blankets are handmade in the Ozarks by expert seamstresses. We use Minky Luxe fabric that is super-soft and will keep you warm and comfortable. Our blankets are fully customizable and come in baby, child, and adult sizes.  
Treat Yourself to Handmade Luxury Bedding
Get your best night's sleep with
Kalin Marie Co.'s
high-end, made-to-order bedding and pillows. To order, visit our
online shop
today. Got questions? Shoot us an
email.