Kalin Marie: Not Just a Baby Bootie Company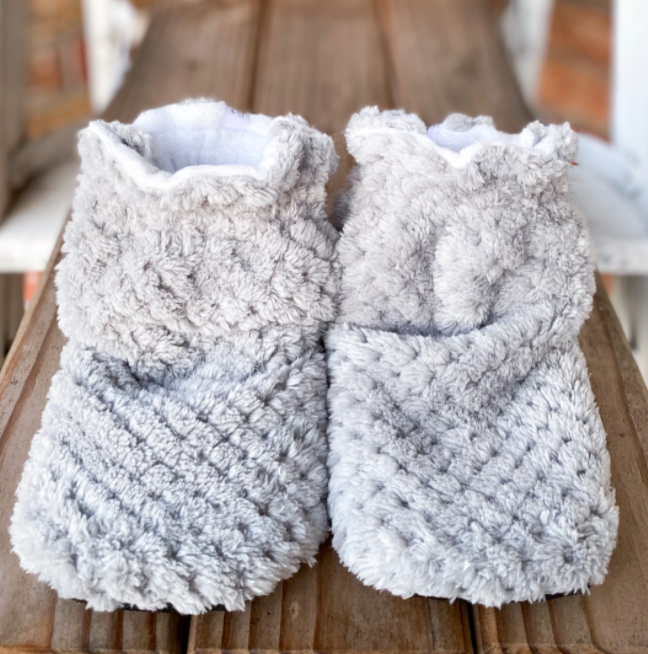 Here at Kalin Marie Co. we're known for our baby booties. And we have to say, we make some pretty darn great ones. Yes, we're a bit biased, but our reviews speak for themselves. That being said, we're a lot more than just baby booties. In fact, we offer footwear and products for people of all ages. Today we're breaking down three of our favorite products for those who aren't still in diapers. 
Babies shouldn't get to have all the fun. That's why we decided to take our popular baby bootie and scale it up in size. Now women and children can also enjoy the cozy comfort of a bootie. There are seven super-soft fabric options to choose from, starting at $55 for youth and $70 for women's sizes.
Blankets
If you're like us, there's nothing quite as comforting as snuggling up on the couch on a chilly evening with a super-soft blanket. At Kalin Marie we take our blanket game seriously, offering a variety of options for whatever your blanket needs may be. We have a curated collection of finished blankets in popular styles that are ready to ship. We offer a larger selection of made-to-order blankets that come in tons of fabric, pattern, and size options. Finally, there are our custom blankets, which you get to design yourself. They're the perfect one-of-a-kind gift! 
Custom Bedding
Nothing says being an adult like caring about quality bedding. We never thought we'd see the day, but here we are, discussing thread counts and debating just how many pillows belong on a bed. In order to help you create the perfect bedroom aesthetic, we craft custom bedding blankets, pillowcases, and pillow covers. Our bedding blankets and pillowcases are made of Luxe Minky fabric and come in a variety of patterns. Our pillow covers are where you can really get creative. You can customize them with your favorite quote or embroider them with your family name. 
Related Post: They are Plush and Beautiful, but what Goes into Making a Plush Blanket by Kalin Marie?
Something for Everyone
Whether you're shopping for yourself, or looking for the perfect cozy gift for someone you love, we have products that are sure to please. The options are basically endless. To order, visit our
online shop
today. Got questions? Shoot us an
email.