5 Gifts to Make the Perfect Easter Basket This Season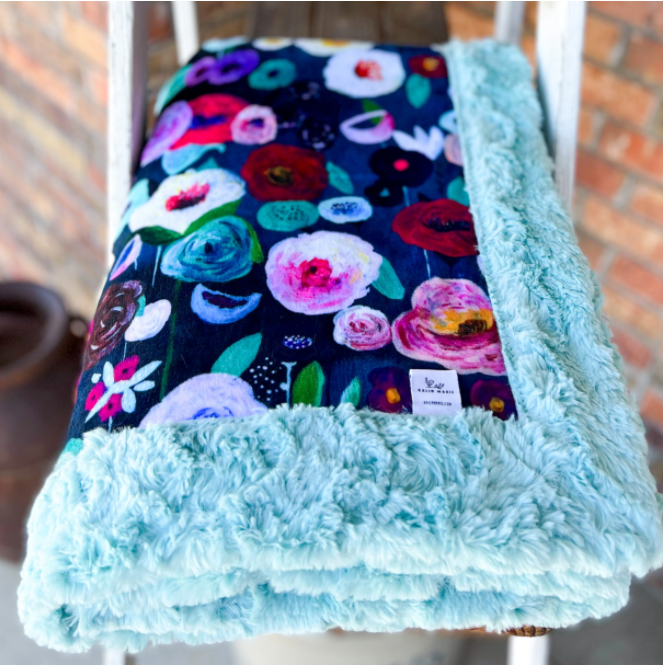 Putting together an Easter basket for a loved one is such an exciting experience. Most of us love to get creative and make something as unique and special as the person we are creating it for.
Kalin Marie makes handmade, custom blankets and other luxurious items that would make the perfect Easter basket stuffers.
Custom Minky Blankets
Blankets are a universally loved gift because you are basically giving the receiver the gift of warmth and comfort. At Kalin Marie, we have both ready-to-ship blankets that have been handmade with love or custom blankets for you to choose your materials and colors.
Minky Booties
We are well-known for our ultra-soft Minky baby booties, but did you know that Kalin Marie also makes booties for youth and women? These booties come in our luxe Minky material and are great for keeping your feet warm year-round.
We also make all knit baby booties in a variety of patterns and colors. Our baby booties are made with a double elastic band that keeps them from falling off. Our booties will fit nicely in an Easter basket.
Related Post: Kalin Marie: A Women-Owned Business Sewing Up Luxury
Custom Loveys
Our beautiful Minky loveys are perfect for a new baby or a soon-to-be mom. Loveys are smaller blankets that come in our luxe Minky material and can be customized to your style. They have a small tag that can attach to a pacifier clip, and are the ideal size for a tiny baby's hands.
Custom Stuffies
Every child loves having a soft stuffie, and at Kalin Marie, all of our stuffies are custom-made upon order just for you. Our soft Minky stuffies are the perfect fit for your child's Easter basket and can be personalized with a name. Forget store-bought stuffies when you can give a gift of handmade love.
Minky Scrunchies
Kalin Marie offers a mystery 3-pack of Minky scrunchies, handmade by local teenagers. These Minky scrunchies are soft and incredibly gentle on hair and can come in both solids and Minky prints. These are the perfect basket-stuffer.
Stuff Your Easter Basket With Kalin Marie
Kalin Marie
offers luxury, made-to-order blankets, booties, pillow covers, and more! To order, visit our
online shop
today, or send us an
email.