3 Reasons You Need a Minky Wearable Throw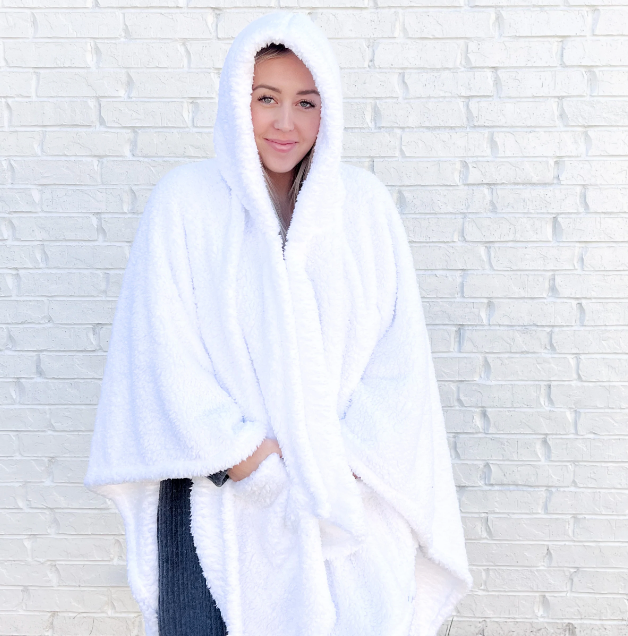 New from Kalin Marie is the wearable Minky blanket, also known as a wearable throw! 
Is it a blanket? Is it a shawl? 
Good news, it's both!
We have provided a great way to stay stylish this winter while also managing to be wrapped in our luxurious lamb Minky fabric. Kalin Marie gives three great reasons why you need one of our new wearable Minky throws.
Baby, It's Cold Outside!
It's winter, and those cold mornings make it difficult to get out of bed. You just want to leave the house and drive to work with your plush, Minky blanket wrapped around you the whole time. Well, technically, now you can.
Our wearable throws are one size and large enough to cover your entire torso, so you stay warm all day. It's like having your own wearable blanket!
It Has Pockets
What is better than a blanket with pockets? Our Minky wearable throws have large pockets to keep your hands warm while you lounge inside or while you walk out in the cold. They are large enough to hold your phone, wallet, or anything else you might need.
They also have a built-in hood to keep your ears nice and warm. With several neutral colors available, you should be able to pair your wearable throw with any outfit.
Related Post: How to Wash a Minky Blanket
Handmade With Love
Our wearable throws, along with ALL the luxurious Minky items from Kalin Marie, are 100% handmade in the United States. When you order from us, you get an item that a local seamstress made herself. Our seamstresses are college students, mothers, grandmothers, and retirees looking to use their love of sewing to support their families.
Handmade Minky Items From Kalin Marie
To view our luxury, handmade Minky items, visit
Kalin Marie
. We sew custom Minky blankets, Minky baby booties and lovies, and a variety of other items for your home. To order, visit our
online shop
today or send us an
email.