The Importance of Stuffies for Growing Children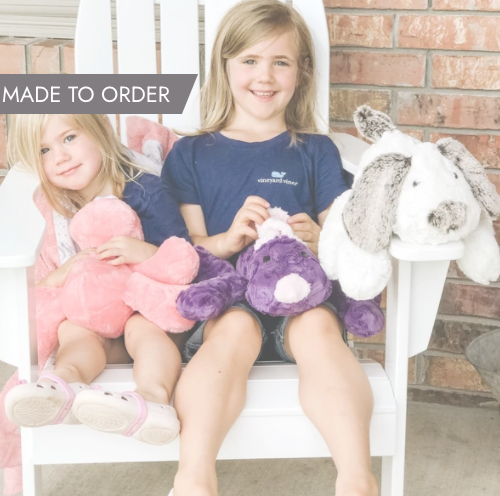 You can probably remember back to when you had a favorite stuffed animal. You likely slept with it, had tea parties with it, and probably drug it with you just about anywhere. Stuffies are associated with good memories and comfort. In today's blog, Kalin Marie will discuss the importance of stuffies for growing children and why we put so much love in ours.
Stuffies are Often a First Companion
Before children begin to socialize with other children, they form attachments to stuffies. A stuffed animal is often a child's first friend, and they will play with it, talk to it, and treat it as a special part of their life. 
Once children begin to make friends and form attachments to other children and people, they will likely still keep their stuffy close by. Stuffies often outlast childhood, and many adults tell you about their favorite stuffie they have saved over the years.
Stuffies Offer Emotional Comfort
Stuffies provide a comforting constant in a child's life and are something they know and can count on to be there. Young children are still learning to understand emotions and feelings, and having something familiar to fall back on can help them regulate those feelings.
In a situation that seems scary or unfamiliar, a quick hug from a stuffie can remind them that they are safe and everything will be ok. Having a stuffie with them may make them feel confident in new environments. Are they afraid of a doctor's stethoscope? Maybe if the doctor were to listen to their stuffie's heartbeat first, it wouldn't seem so intimidating when it was their turn.
We Put Great Care into Our Stuffies
Knowing how vital a stuffie can be to a child motivates us to create soft, high-quality, loveable friends. Our made-to-order stuffies are crafted by hand and only use the best quality, softest Minky fabrics to make them extra loveable and squeezable. They are American-made and crafted right here in the Ozarks by local seamstresses.
If you are looking for the perfect gift for a new baby or a young child, a soft, Minky stuffy might be just what they need.
Learn More About Our Handmade Stuffies
Our stuffies are personalized and made to order each time. If you are interested in having a special stuffie created for a child, please visit our website.