Baby, It's COLD Outside: The Importance of Keeping Your Feet Warm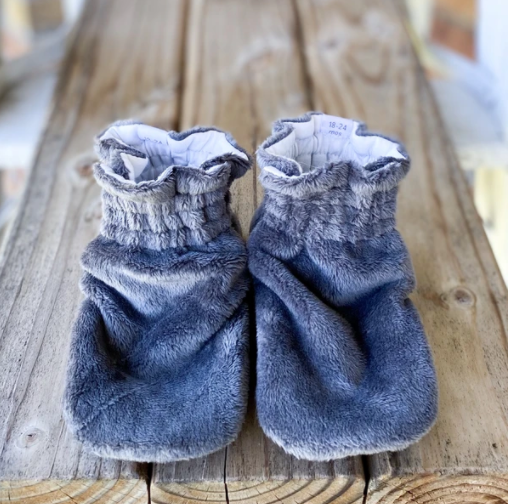 The winter months are on us, along with those chilly mornings and cold floors. Keeping your feet warm with socks or slippers is a great way to keep your whole body warm. In today's blog, Kalin Marie will explain the importance of keeping your feet warm and why babies need warm feet year-round.
We Lose Heat Through Our Feet
While our body is pretty great at regulating its temperature, we tend to lose the most heat through our extremities like hands and feet. You'll notice that as long as your feet feel warm, so does the rest of your body. Running around your house barefoot on a cold day is a sure way to feel a chill.
This is why it is essential to keep our feet covered because it helps keep the heat in and helps us stay warm. Even with inches of snow outside, you can stay nice and cozy indoors with a fuzzy pair of slippers.
Babies Need Their Feet Warm Year-Round 
Babies are the same and need to keep their little toes toasty as well. Even in the summer months, if they are in an air-conditioned room, babies need to have their tiny feet covered to help keep their bodies warm.
Our Minky booties are perfect for babies of any age and come with a double elastic band to avoid sliding off accidentally. Minky material is delicately soft and soothing, like a blanket for your feet.
Soft Soled Booties are Great For Learning to Walk 
Pediatricians recommend Soft-soled shoes for babies learning to walk as they are the closest thing to walking barefoot while still providing support. 
Our 0-6 month booties have a Minky sole, so they are extra comfy for sitting, playing, and rolling. However, our 6-12 month and up booties have a non-slip Toughtek sole that provides excellent support for those little ones ready to stand up and walk on their own.
Minky Slippers and Booties are For Everyone
Not only do we make Minky booties for babies and toddlers, but we make them in youth and women's sizes as well. Everyone deserves to snuggle into soft, Minky warmth this winter season.
Kalin Marie Offers Custom Booties
Our unique store offers custom-made and ready-to-ship baby booties and custom-ordered youth and women's booties. If you would like to view our luxury products, or make an order, visit us
online
.